I was recently reflecting on photos in my iPhone from this past summer. Seeing all the pics reminds me that with just one week to go until my due date, that I've had a hell of a fun summer with my son Mylo.
I made an extra effort to create memories of the time we had together. Even if he won't remember them…I will never forget them.
I took him to the ocean five times. Two times it was just him and I. The other trips were with friends who have children too. Mylo loves the beach! Sure he loves the waves and the sand. He also loves climbing on the unused lifeguard chairs that are laying down in the sand. But what really cracks me up is that he especially loves to eat on the beach. And if you know my son you would know then why that's so amusing. Mylo doesn't have a whole lot of interest in food, and as a result it's not always so easy to feed him. But the second we claim our spot in the sand, Mylo's in the cooler and the seagulls are surrounding him.
I recently took him to a water park on Long Island called Splish Splash. I'll admit, it was a bit too early to introduce him to water rides. It also turned out to be a super long day, not to mention expensive too. BUT, we went with a friend of mine, two of her young children and her 13 year old niece. So there were many hands on deck and despite the nasty spill Mylo took while chasing his buddy James, he had a lot of fun.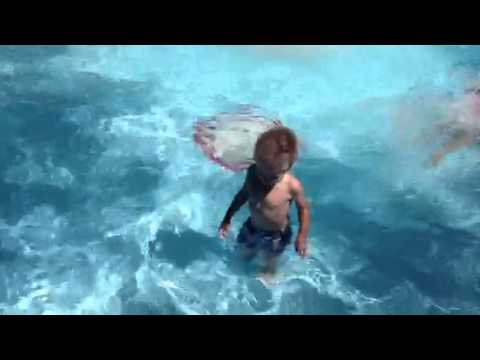 Last week we went with my friend Jenn, her two kids and her nephew to Hoyt Farm on Long Island. What a little gem of a place!
On one side of Hoyt Farm is two playgrounds and a small water park with fountains for cooling off. On the other side is a nature preserve. The two are connected by windy trails and an expansive field of rolling hills.
I'm certainly going to miss our time together as mommy and only child. It's been an incredible three years full of sleep deprivation, learning curves and loads of fun. But I also look forward to the next chapter of our lives… when Mylo's sibling completes us as a family.