At just one week shy of your second birthday we went through a big transition. You started daycare at Regina's. It's the same place Mylo began at when he was 15 months old. Classroom or playroom settings aren't new to you. You've been accompanying me and the grandparents who pick-up Mylo since you were born. I figured you'd be excited to have a place to go with little people like you, who you could call your own. But you cry and clutch and plead my name in between gasps at drop-off, and it's heartbreaking. You'll adjust. Mylo did and so will you.
It's not like you're not used to being left. I went back to work when you were three months old and you're cared for by grandparents three days a week. And at the tail end of the winter, we hired Lana, a nanny we met while eating lunch at Chipotle one day. Lana started with us by doing mornings on Fridays. Then when we had a need for full days after Goomah left for France, she was with us at least 2 1/2 days out of the week.
But let me back up a bit…
You took your first steps when you were 13 months old. You were as wobbly a walker as you were a crawler. Correction, you are a wobbly walker. Till this day! Granted babies start off shaky but by their second year, they're usually a bit more solid on their feet. Not you. You fall down at least once a day!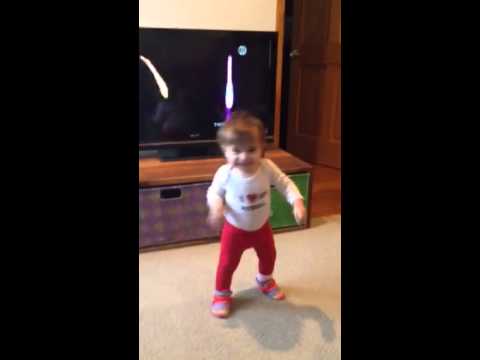 You're also an adorable runner. I don't want to say you run like a girl, because that term, #likeagirl, what does it mean really? But you have this extremely adorable albeit delicate way of running. You throw both of your hands up in the air and flap them around like a discombobulated bird.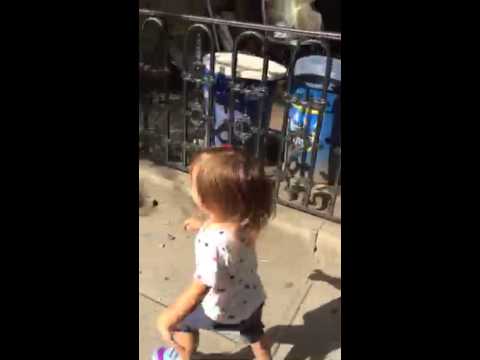 I didn't care much for the "walking but not yet talking" stage with your brother, then you came along and reminded me why. From dumping the dogs' water bowl to constantly undoing what we do, whether that's folded laundry, drawers and cabinets, I think this stage lasted longer with you. I know because we're still in it. Just the other night I caught you with your hands splashing around in the dog bowl. And the other morning you proceeded to ask for every hair product container and makeup container in my bathroom and when I told you no I was met with the biggest tantrum ever. You cry and protest and throw a fit until you're on to the next thing. And you are in no time, on to the next thing.
I love that you're growing up influenced by your brother's toys and friends. You know your way around with race cars and superhero figurines and this will make you a cool chick. Take it from me. With that said, you're still a girl after my own heart. You love shoes and mastered putting on your own, whether it's snow boots, velcro sneakers, strappy sandals or crocs, since you were 18 months old. Your favorite toy is a baby doll named Stella who you got for your first birthday but who you only took interest in these last few months. And need I say that baby Stella is always naked. The clothes she came with are never on. And among your many stuffed animals is a a little yellow duck whom is your favorite.
Neither Mylo nor you were early speakers, but you understand just about everything we say. Your first word was "ish". Since you were 14 months old you would point to things, anything, and say it with such confidence and cuteness. You owned that word. Your first real word was "da-da," I believe it was somewhere around your 17th month. You pronounce Mylo as "memo," Ganga as "gonga," and for Goomah, you drop the G and simply say "oomah."
Some of the adorable words in your toddler vernacular and their meaning:
bah-bah = bottle
boom-boom = balloon
guck = duck
ap-pu = apple
bapes = grapes
ga-gack = cracker
bip = poop
Cheese is your favorite food. You love just about every fruit and eat broccoli like a champ. Your favorite sweet seems to be chocolate, but luckily it's not around much for it to be a reoccurring request on your part. You still love to drink from the bottle. You're given almond milk in the morning, in the afternoon and before bed at night. But lately, you'll protest and manipulate your way into having a fourth bottle. You've never met a straw you don't like to chew, and it's for this reason your brother refuses to share drinks with you. (I can't really blame him!)
Last year for Halloween you were an adorable stuffed pumpkin and I was a farmer. While we walked throughout our Brooklyn neighborhood trick-or-treating, you happily sat in the stroller and sampled chocolate. Your brother ran up and down peoples' stoops always remembering to ask for an extra piece of candy for his baby sister. And then he'd turn, point and exclaim, "See, the pumpkin!"
You weren't quite aware enough to enjoy the magic of Christmas but we still had fun. This years' Christmas festivities should be tons more fun for you.
You flew for the first time on an airplane this past April when we went to Orlando, Florida. It was a last minute trip to escape the tough winter that we barely managed to slug our way through. You proved to be an uneventful flyer, getting sick on the cab ride there and then again during the descent into Orlando. And with that I learned to pack an extra set of clothes every time we travel now!
In July we went with Ganga and Sidi to visit Aki and his family in San Fransisco.You didn't get sick on the way there (it might have had something to do with the fact that I pretty much starved you) but you were uncomfortable and clingy for the entire 5 1/2 hour flight nonetheless. You did however, get sick on the Uber ride to the airport to go back to NY.
Shortly after we boarded the plane, I realized you had left your sippy cup and stuffed animal by the gate. Had I not been on my laptop trying to send an important email that couldn't be sent from my phone, I may have noticed, but I didn't. We were literally moments away from taxiing out when a Virgin America security staffer was brought on board by a stewardess who I gave the information to. She then relayed the descriptions to an employee by the gate who quickly located your belongings. I could feel the stares upon me as we waited for them to bring us your items. Yes, I was that frazzled mother traveling alone with two children. And yes, it was a slightly embarrassing mishap, but I still got a kick out of hearing "ladybug sippy cup and fluffy dog stuffed animal, over" come from the not-so-thrilled, somewhat smug, militant security staffer. When the female version of Rambo came stomping down the aisle with your cup and dog in tow, you squealed with delight and nearly half the plane applauded. All I could think was, "You all think she's cute now, but just wait until she starts puking!" But you didn't. You and your brother didn't even make it to takeoff. You both fell asleep and didn't move for 2 1/2 hours. I even got to watch a movie – GASP!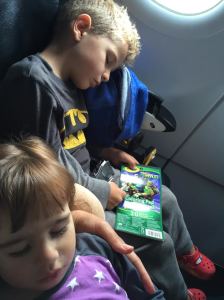 You've shown a lot of interest in the potty but you've yet to do much on it. And because of that, we don't encourage you to try half as much as we probably should. Then again it's not like we're sitting around all day twisting our thumbs. If we're not at work, we're often out of town on weekends. Like Mylo, you'll start going on the potty when you're good and ready to go on the potty. I'm not the least bit worried.
We didn't frequent the beach last summer when you were barely even one. Watching babies purposely put sand in their mouths makes me shiver with discomfort. But this past summer we went a bit more and you were much easier to manage. You're not really sure what to make of sand and you're cautious at the water's edge, but I think you thoroughly enjoyed the beach this year.
My sweet daughter, you adore dogs, which is honestly no surprise — I don't think it's in my DNA to have a child who is not completely at ease with dogs. But that ease isn't always such a good thing. You engage every dog on the streets and not necessarily the right way. All of us, including your brother, are trying to teach you the correct way to greet and approach dogs.
Life with two littles is not always easy, but I thank the lucky stars that for my second child, they brought me you. Despite what we call your "destructo" stage, and your not-too-convenient clingy nature, you are a true joy. You can go from frustrating me with your toddler ways to demolishing me with your sweet nature all in the same minute. You're a so-so napper but you have slept through the night since your second day earth side. And for this I am so grateful I feel almost gutted. A beautiful, healthy, happy little girl who sleeps. What more could a parent ask for?