This past weekend it was all about Mylo. It was perfect timing since the prior weekend he got snowed in at his grandparents on Long Island, then spent his first two days back in Brooklyn at daycare. Not that either of those two things are bad, they're actually great! After Mylo broke into a fit upon being dropped off at daycare Monday morning, which was followed by a phone call a few hours later because he wasn't "acting like himself", it became obvious that our son was missing us.
So the following weekend became what we dubbed, "an all about Mylo weekend."
Friday we took him to see Sesame Street Live at Madison Square Garden. We arrived early, just in time to see Cookie Monster, Ernie and Zoe dancing around the "fun zone" pre-show. Mylo was in awe.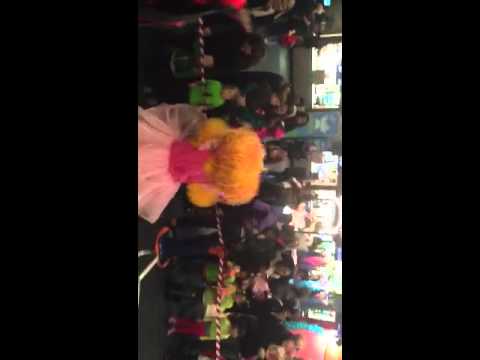 The show itself was just like watching an episode. A healthy balance of story telling mixed with educational lessons, singing and dancing. The Sesame Street swag we bought was ridiculously over-priced, but seeing my boys' eyes light up when he got a hold of his $10 Elmo balloon made every penny well worth it.
Much to our surprise it was 50 degrees when we got out of the show. We took the subway home to Brooklyn and went straight over to his favorite playground.
On Saturday, in honor of Black History Month, we went to the children's floor of Macy's for a story book reading of President Barack Obama's "Of Thee I Sing: A letter to my daughters".
Sure Mylo was the only white kid, but we felt welcome nonetheless. We sat at little kiddie tables and made our own keepsake books after the reading. When Mylo grew tired of the festivities we bought him a pair of sandals for our trip to Florida next month. And because we spent more than $25 on the children's floor, we were given a complimentary copy of Obama's book.
Later in the day we took Mylo for a haircut. His hairdresser Danielle always does a fabulous job of trimming him while keeping the signature curls that we love.
We stopped by one more park afterward and then ended the weekend off with a scrumptious BYOB dinner at Layla Jones.